Trust as Far as You Can Throw - The Event
What does it really take to break the discus world record or olympic record? We could go on about how the event is really old and was part of the pentathlon 2,732 years ago…but this article is supposed to get you excited about the discus throw so that's the end of that.
However, since we're talking about the world's first Frisbee, let's consider the difference. A Frisbee weighs 175 grams. The men's discuss weighs 4.4lbs (2kg) – more than 10 times the weight of the Frisbee. Big deal, right? 4.4 pounds is nothing. Unless you have to throw 4.4 pounds farther than the longest single in-game NFL Hail Marry pass in recorded history. For reference, a football weighs just less than 1lb (430 grams). Not so easy.
On the surface, it seems like the discus throw is basically a "chuck it as hard as you can" strongman type of feat. In reality, it's more of a methodical command of trajectory, speed, rotational force, flight angle, and lift type of feat. The discus gets most of its distance from the angle of trajectory and its speed upon release. Rotation also plays a role. Similar to how a bike wheel stays upright so long as it spins, the discus must spin an average of 400 revolutions per minute to keep it stable in flight.
The Angle of Flight
The release speed is all about technique and power. But the flight angle is what makes discus world records. Limiting drag is important but the more intriguing force is lift – the same force that keeps planes in the air. A discus flying with its front edge higher than the back will stay aloft longer and fly farther. So a discus thrower must be an expert of aeronautics and a guru of control.
Each competitor gets three initial throws and the top 12 get another three in the final round. The farthest throw within bounds earns the gold.
Distance Comes With Age
The average Olympic sprinter reaches peak performance at age 26. It's 24 for high jumpers and 23 for swimmers.
For discus, it's 29-30. When you understand the level and complexity of technique, it's clear why the discus takes decades to master. Throwing the discus far is about rhythm and knowing when and where to apply force. You can't be too aggressive or your throw will be off. You can't be too relaxed or your throw will be short. Winners find the sweet spot in between.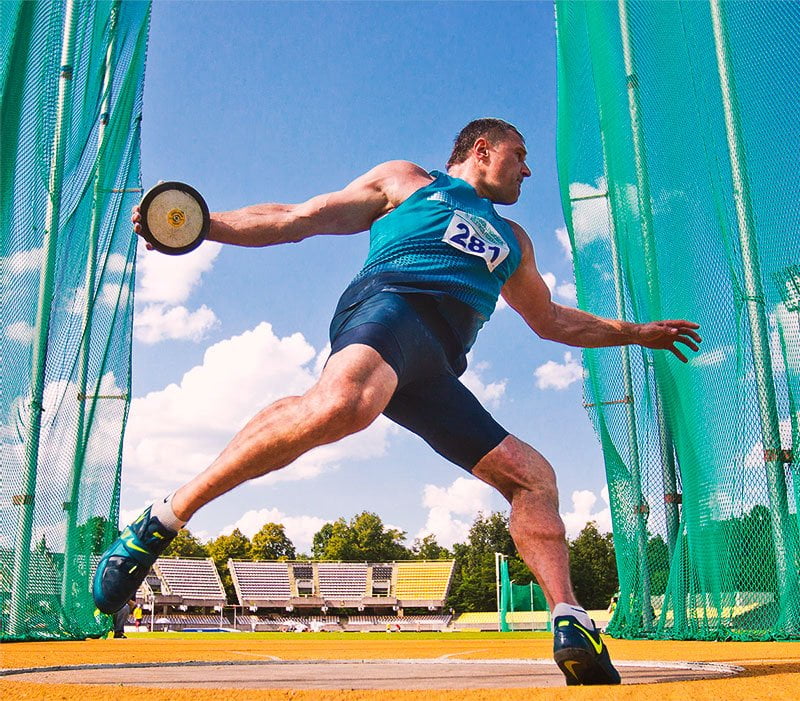 ---
Discus Olympic Records
Men's Discus Throw Olympic Record
229 feet, 3 inches - 69.89 meters
Virgilijus Alekna, Lithuania, 2004
At the 2004 games, Virgilijus Alekna didn't get to stand at the top of the podium or immediately celebrate his discus Olympic record throw. It was Robert Fazekas who stole the moment.
But Fazekas later failed a drug test and his performance was erased from the history books. Alekna's 229'3" (69.89m) throw took its place.
But have no pity on Virgilijus for missing the glory in the moment. During his glittering career he was able to celebrate often. Winning Olympic gold in 2000, two World Championships and a going on a 37-meet win streak, Alekna earned his place amongst the greatest throwers of all time.
Women's Discus Throw Olympic Record
237 feet, 2.5 inches - 72.3 meters
Martina Hellmann, East Germany, 1988
Going into the 1988 games, Martina Hellman was not the favorite. Instead, it was predicted that the world record holder, Gabriele Reinsch would win. But Hellman had won the 1983 and 1987 World Championships and she was not going to let her international competition status go to waste.
Taking the lead early, Hellman threw 235'8½ " (71.84m) in the first round and was never overtaken. Adding icing to the cake and solidifying her win, she reached 237'2½ " (72.3m) and the discus throw Olympic record with her fourth attempt.
---
Discus World Records
Men's Discus Throw World Record
243.0 Feet - 74.08 meters
Jürgen Schult, East Germany, 1986
Is a world record that has stood for more than 35 years unbeatable? Maybe. No other record made by a male athlete in all of sport has held as long. This is the mark all elite discus throwers have been fighting against since 1986 when Jurgen Schult threw his 243'½" (74.08 meter) throw.
On June 6th, 1986 a handful of spectators at a small track meet in Neubrandenburg Germany witnessed what was previously though impossible - a discus throw over 240 feet (73 meters).
Many would like to credit Jurgen's development in the East German doping era for his seemingly insurmountable mark in history. But it's not at all that simple. Jurgen was remarkably consistent and executed his throw with extreme physical grace. He chased the perfect throw for over a decade and under the perfect conditions, he found it.
Jurgen himself never came close to meeting this mark again. But no one else has either, and it's not like nobody else has enhanced their performance over the last 35 years.
Maybe it's not beyond suspicion, but Jürgen Schult made his mark. And that mark has firmly stood since. Still, great records are made to be broken.
Women's Discus Throw World Record
251 Feet, 11 inches - 76.8 meters
Gabriele Reinsch, East Germany, 1988
Just like Schult, Reinsch didn't compete in the 1984 games. However, unlike Schult who went on to win gold in the 1988 Olympics, Gabriele finished off the podium. Her 7th place finish with a mark 30 feet less than her record setting throw that year (220', 8" or 67.26m) was a surprise and a disappointment.
For now her world record looks secure for the foreseeable future. Although after watching Valarie Allman's performance at the Tokyo games... who knows what will happen if she continues her progression and gets some favorable wind.
---
If you would like to learn the most effective system for training and coaching elite discus throw technique, check out Coach Brian Bedard's masterclass, Throwing Smarter, Throwing Farther.